New SRBMiner 1.6.0 Cryptonight AMD GPU Miner Ready for Haven and Masari Forks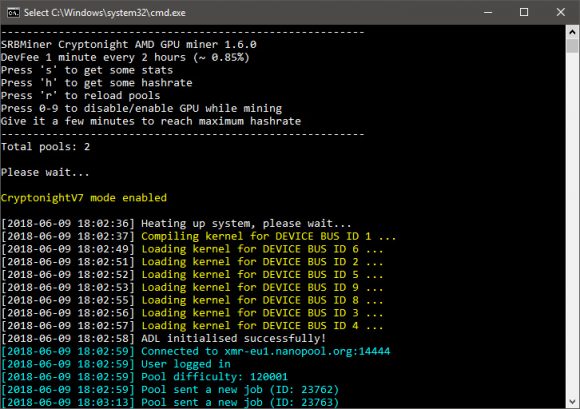 SRBMiner is turning out to be the first choice for a CryptoNight AMG GPU miner thanks to the good and fast support and especially the reaction time to changes and new CryptoNight variations getting supported. The latest version 1.6.0 of SRBMiner adds support for the new Haven (HVN) algorithm to go after the fork at block 89200 as well as for the new Masari (MSR) algorithm to go after the fork at block 204000. The latest version also comes with some new features and improvements to make it more usable and problem free, though apparently there are still some miner crashes happening mostly on Windows systems with the latest 1803 update.
We are reminding you that SRBMiner is a closed source miner and comes with a built-in developer fee of 0.85%. It is only available for Windows operating systems as a precompiled binary that you can download and use. SRBMiner is designed for AMD OpenCL GPUs and will work on a wider range of AMD-based video cards, both older and newer generations such as the latest Radeon RX series.
Supported CryptoNight variations:
– Cryptonight
– Cryptonight V7
– Cryptonight Lite
– Cryptonight Lite V7
– Cryptonight Heavy
– Cryptonight IPBC
– Cryptonight Artocash
– Cryptonight Alloy
– Cryptonight Marketcash
– Cryptonight B2n
– Cryptonight Stellitev4
– Cryptonight Fast
– Cryptonight Haven
– For more information a out the latest SRBMiner Cryptonight AMD GPU Miner V1.6.0…