Crypto Week In Review: Sentiment Starts To Shift As Bitcoin Moves Up 15%
Sentiment regarding the cryptocurrency market took a large shift this past week, as Bitcoin rallied 15% due to a series of positive technical and fundamental indicators.
IBM To Use Stellar-Based Stablecoin For Faster Financial Payments
IBM, one of the largest technology firms in the world, has just announced that it will be exploring the utilization of a Stellar-based token for cross-border payments.  The token in question was created by asset management firm Stronghold and was fittingly named Stronghold USD, which is a stablecoin that is pegged to the value of the U.S. dollar.
Unlike other stablecoin projects like Tether, prospective Stronghold USD users will make a deposit to the Nevada-based Prime Trust bank, with Stronghold issuing tokens on a 1:1 ratio. Additionally, this project was created with institutions in mind, rather than consumers, making the aforementioned stablecoin a much better choice for IBM in comparison with something like Tether or TrueUSD.
Tammy Camp, the founder and CEO of Stronghold, explained the use cases of the token more in-depth, stating:
"The token allows folks to do payments, foreign exchange between companies in a very seamless and frictionless and more secure way. It enables people to be able to trade that token with other assets and other tokens as well."
Despite The Bear Market, Greyscale Investments Sees An Influx of Institutional Capital
Grayscale Investments, a digital asset focused investment firm, recently revealed that it had received an influx of institutional investment and interest, despite market woes.
Grayscale, which is headed by cryptocurrency expert and long-time investor Barry Silbert, released a report that cited that it had received just around $250 million from investors, looking to invest into Greyscale's array of investment products. Although this is an impressive figure by itself, Silbert noted that 56% of the aforementioned figure was generated from institutional investors, potentially noting that these firms see a good entry point at current prices.
July 16: CEO of BlackRock says there is ZERO institutional interest in crypto

July 18: @GrayscaleInvest publishes the 1H 2018 Digital Asset Investment Report, which highlights that 56% of $250 mm raised to date came from institutional investorshttps://t.co/H1ZuHEOP79

— Barry Silbert (@barrysilbert) July 18, 2018
Bithumb To Expand Into New Asian Markets
Bithumb, a popular Korean exchange, has announced that it has plans to expand into the Japanese and Thai markets within the upcoming months. The exchange is currently working on obtaining the required regulatory approval from the local governments, namely the Japanese Financial Services Agency and the Thai Securities and Exchange Commission.
The Thai Bithumb branch is the furthest in development, with its parent company creating a webpage for the platform, along with allocating 3 million Thai Baht (~$90,000 U.S.) to the newly-opened subsidiary.
It is expected for Bithumb Thai to launch by the end of October, while Bithumb Japan is expected to open its doors early next year, despite harsh regulation imposed by regulators. The exchange will not be any ordinary platform, with ZDNet Korea noting that Bithumb "plans to set up an exchange that supports the largest number of coins (cryptocurrencies) in Japan."
Tom Lee And Barry Silbert Call For Bitcoin To Continue Upwards
CNBC's "Fast Money" show hosted industry leaders Tom Lee and Barry Silbert this week, with the two stating that they hold positive sentiment regarding Bitcoin's price.
Barry Silbert, who is a long-time cryptocurrency investor and the aforementioned founder of Grayscale Investments, expects an influx of institutional "dry powder," or highly liquid assets, in the near future. Silbert also stated that the bears have "run out of energy," and have no more Bitcoin to sell, therefore resulting in less selling pressure placed upon prices.
The Bitcoin proponent later pointed out that the criticisms placed upon the industry by regulatory bodies don't hold any value, and come unwarranted. He said:
"So I started buying Bitcoin in 2012 when the price was ten dollars and I've gone through now two 80 percent corrections, and this was a 65 percent correction. It's the same old criticisms… Its just (that) they're uninformed because everybody on this desk, anyone who spends the time to look into what is this asset class, why is it important, why does it have so much potential comes out of it being a believer."
Tom Lee, the head of research at market analysis firm Fundstrat, also pointed out that fundamentals and technical indicators are starting to turn bullish once again, expecting for the world's foremost cryptocurrency to head upwards from here.
Crypto Experts Hold Bullish Price Predictions
Arthur Hayes, the co-founder and CEO of the BitMEX exchange, tripled-down on his $50,000 price prediction, while also making an appearance on the CNBC show that seems to cover cryptocurrencies each and every day. Despite stating that he believes the market hasn't "seen the worst" yet, expecting for Bitcoin to bottom at $5,000, he is betting that the cryptocurrency market will return to a bullish state as we move into the second half of the year.
Hayes noted:
"I don't actually think we've seen the worst. I would like to see us test $5,000 to really see if we put a bottom in. But come back in Q3, Q4, I think is when the party is going to start again."
Bitcoin Holds Weekly Gains, As Altcoins Slightly Pullback 
On Tuesday, Bitcoin saw an astonishing run-up, easily surpassing the heavily contested resistance levels at $6,800 and $7,000. Altcoins quickly followed, with a majority of the cryptocurrency market posting ~8-9% gains on that day alone. Many attributed this run-up to a series of positive news that was released prior to the run-up, namely discussion regarding institutional involvement, with this variety of investment being held as the primary catalyst for the expected bull-run of 2018.
Additionally, as Tom Lee stated on CNBC, the technical indicators were starting to become more favorable as discerned by a variety of analysts.
Since then, many altcoins experienced a slight pullback, with Bitcoin's market dominance rising from 43% to 45%. Bitcoin has continued to hold the gains it made earlier this week, with the cryptocurrency sitting at around $7,450.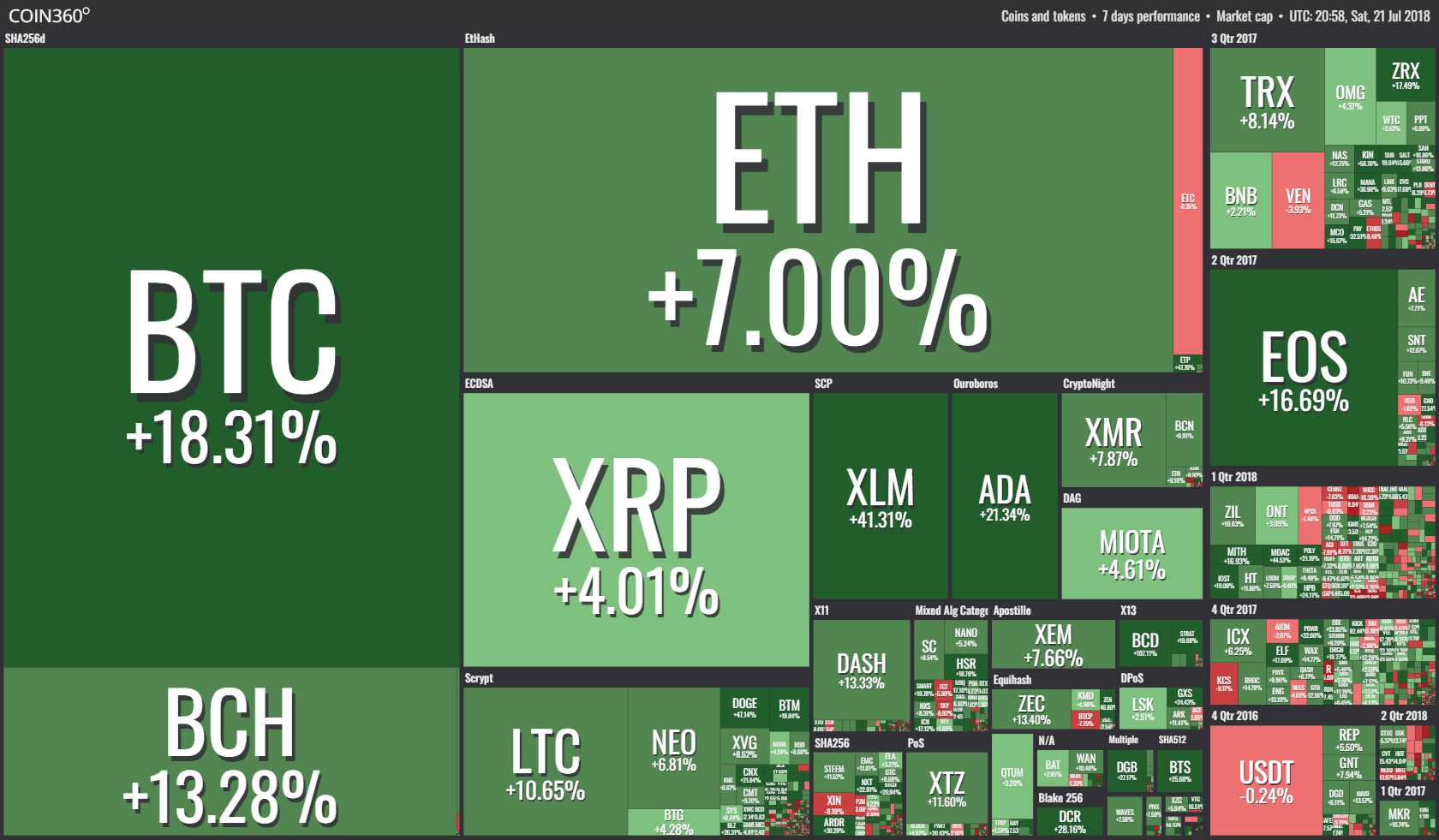 It has become apparent that the sentiment surrounding the cryptocurrency market is starting to change, with an onslaught of positive news coming from all corners of the industry. Arthur Hayes put it best when he said:
"But come back in Q3, Q4, I think that is when the party is going to start again."
Featured Image From Shutterstock
The post Crypto Week In Review: Sentiment Starts To Shift As Bitcoin Moves Up 15% appeared first on NewsBTC.