Fishbank Makes A Huge Splash! Swims Right To Top Of Crypto Collectible Games
COLLECT, GROW AND TRADE CRYPTO FISH TOKENS IN THE NEWEST BLOCKCHAIN GAME SENSATION
Fishbank
is a multiplayer game that allows collecting, growing and trading of crypto fish tokens to dominate the "decentralized food chain." It's a blast to play and you can also win weekly contests prizes in Ether. It is the 2nd most popular digital collectible game standing right after the CryptoKitties in the dApp list (according to dAppRadar rating as of 16 April 2018).
Fishbank Rating Score: ★★★★★
What Players are Saying:
"Incredibly entertaining! The potential to win ETH prizes is icing on the cake"

"The next big crypto collectible game"

"This is seriously fun, slightly addicting and I just won some ETH.. blew away my expectations."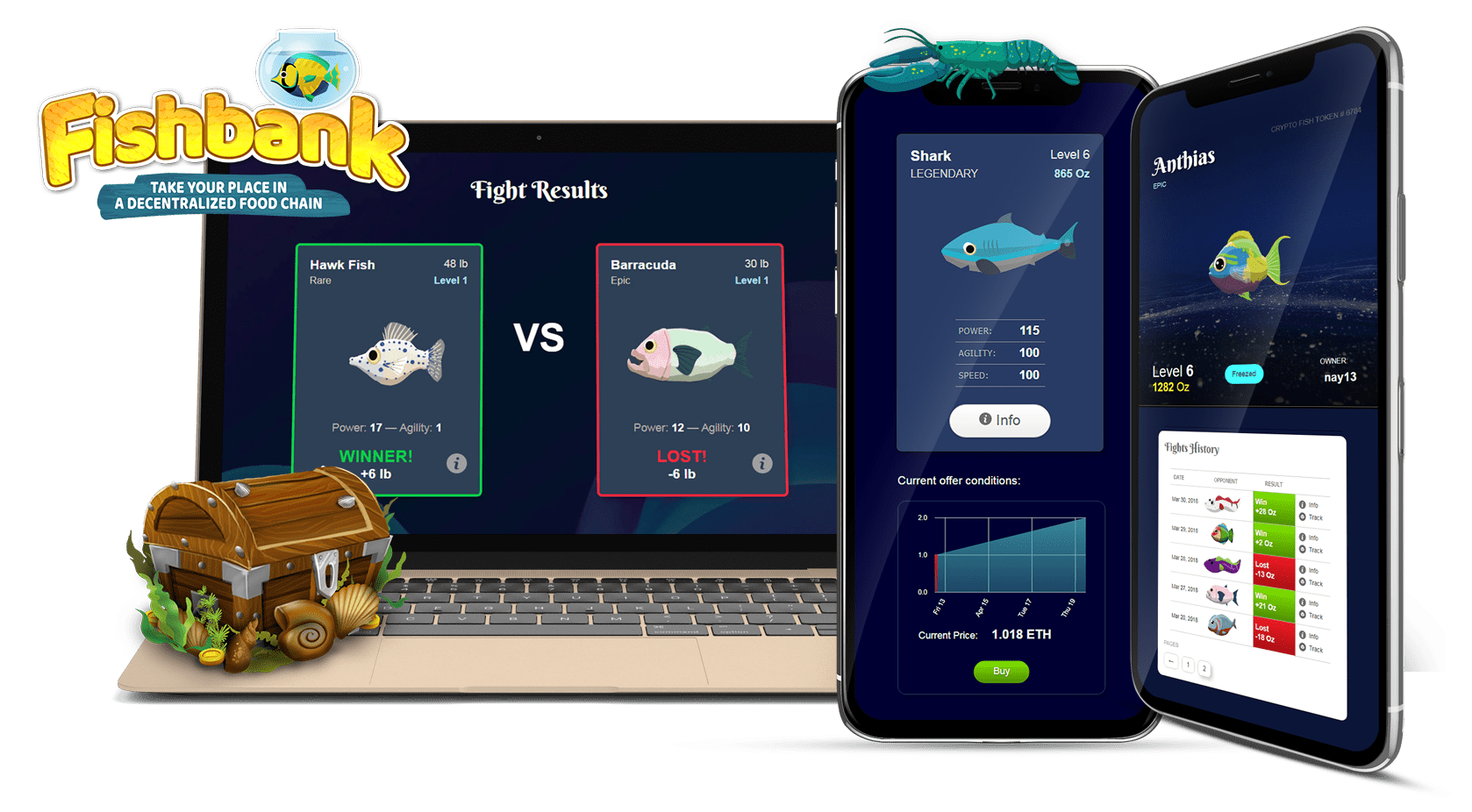 Every fish is an ERC-721 token stored on Ethereum blockchain. You are the 100% owner of the token and no one can destroy or diminish it, that's why you will need an Ethereum wallet to manage the token.
You may use MetaMask extension for desktop browser or play the game on any iOS or Android device using Toshi or Trust Wallet. There are great video guides on how to install digital wallet and launch Fishbank:

At least one crypto fish token is required to play the game. Try to catch a random one for a fixed fee or buy one on the market from other players. Crypto fish prices may depend on it's power, rarity, weight and overall beauty. There are approx. 40 unique fish species each with 5-10 different parts with 25 color combinations and up to 100 levels that makes more than 1,000,000 variations of possible crypto fish token image types. Weight is obtained in fights — the more weight the fish has, the more powerful it is the more value it may have on the market.
There are several different strategies on how you can play Fishbank and make some Ether:
7 ways to profit in Fishbank
1. Catch the Crypto Whale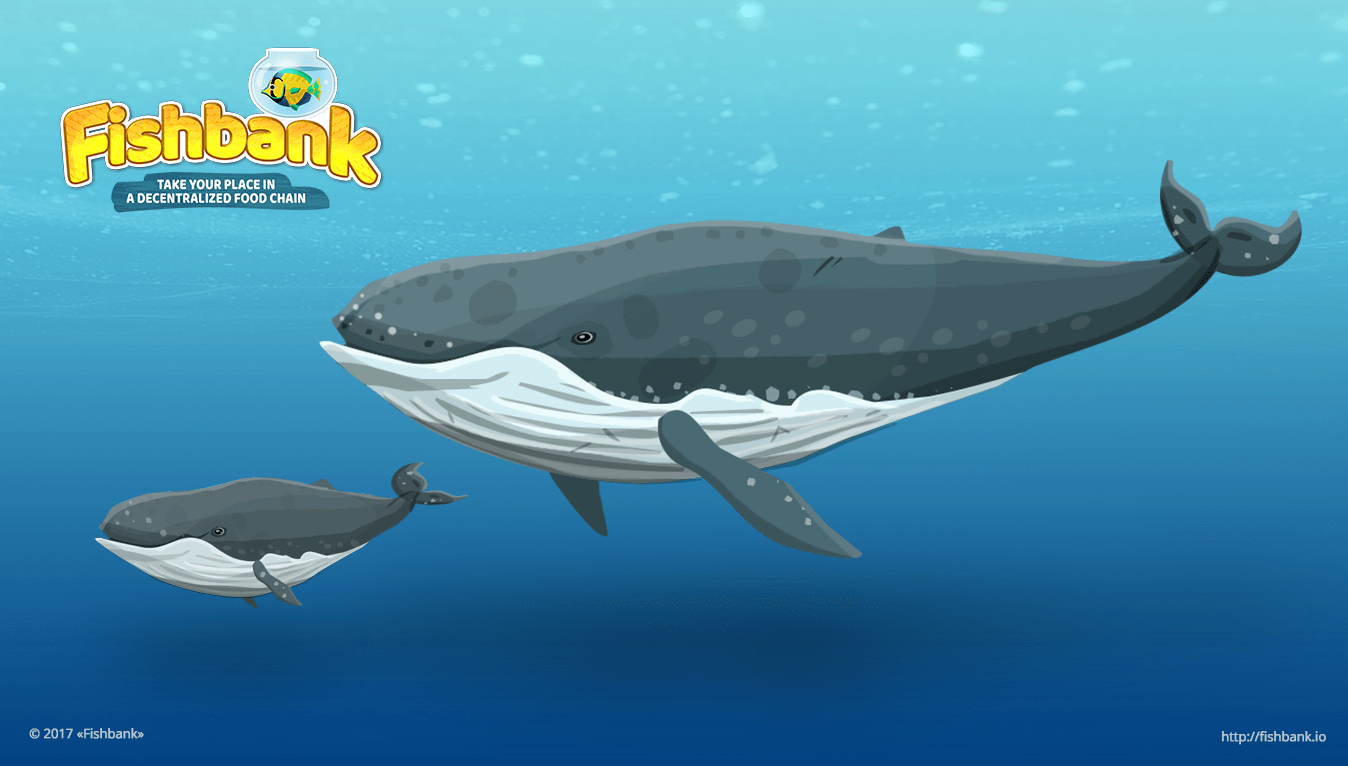 Only 25 fish species were pre-minted for the game during Preorder stage. One can try to catch a random crypto fish token for 0.03 ETH – at least one Common is guaranteed. Chances to get uncommon are: 1:5 for Rare, 1:50 for Epic, 1:5000 for Legendary. There is an opportunity to catch ultimate Whale worth approx. 100 ETH (current bid on the market).
2. Train your Champion to hunt others
Attack other players' fish tokens to gain part of their weight and grow your fish. Bigger fish has more chance to win more powerful rivals that defines crypto fish token value. Trade it for a better fish or some profit in the integrated Market or external exchanges.
3. Win Contests with Prizes in Ether
Every week there are contests with prizes in Ether paid directly to crypto fish token owner's wallet. No special action required — all crypto fish tokens are considered participants (including those listed on the market).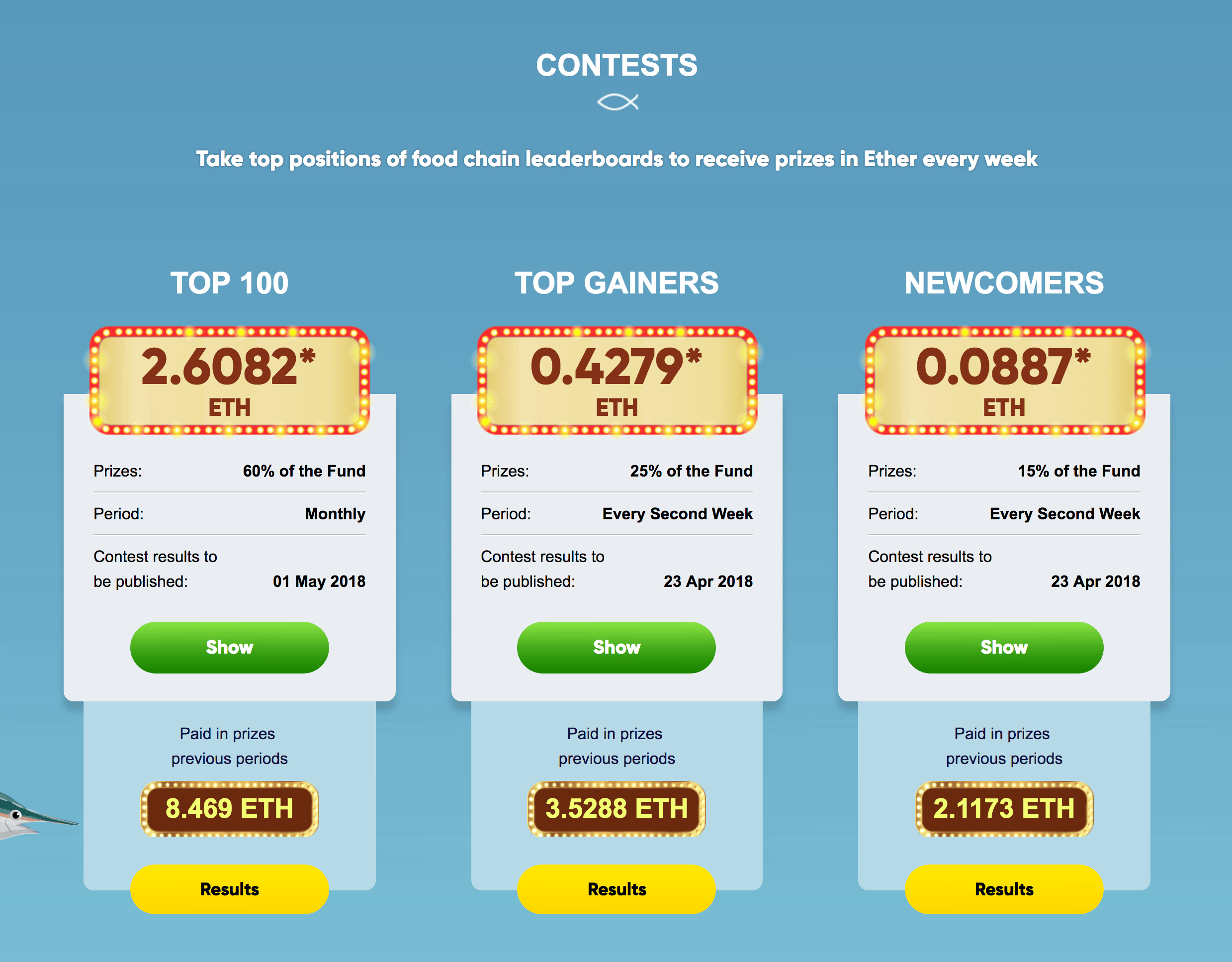 Prize fund is formed by the game income (catching a fish, buying chests). Prizes are paid to the best performers in each category:
Top 100 —best of the "food chain" leaderboards

Top Gainers — best performers in each rarity category (Common, Rare, Epic, Legendary), there is a fair chance for every "mid-range" fish to win

Top Newcomers — weekly contest, prize fund distributed between newly caught fish with the best results in fights
Holding fish in Top 100 adds good value on its token on the market as it generates some passive income.
4. Trade on the Market
One can make some Ether tracking good offers on the market and reselling them soon after for a better price. Requires good knowledge of crypto fish species and some analysis. There are couple of tricks thought: first one is to find a preordered crypto fish token — they all came in single-gamma colors that adds real beauty and value, those can be also defined by the birthdate (18th March 2018). Second is searching for a cheap Oz (weight) no matter what the fish looks like.
5. Uniting Crypto Fish Tokens
There is a secret tactic to grow your fish fast — uniting two tokens owned by one player using the ability to "transfer" weight. Formally that is attacking your own fish that can make it's weight double. Trick is that you can transfer weight from Rares and Commons to Epic making it higher than a Legendary in Top 100.
6. Booster Extraction Business
Some players are involved in the business of releasing valuable Modifiers from Chests and selling them on the market. Modifiers allows temporary boost of crypto fish token core characteristics so it can perform better in fights.
Medium Chest that contains 3 Modifiers costs 0.015 ETH. Some valuable Modifiers (like Instant Attack, Big Power and Agility Boosters) are traded on the market for 0.02 – 0.4 ETH each.
7. Invite Friends to Get Boosters
There is a reward for inviting a friend — Small Chest with 1 Modifier for each one joined the game. That may be a good business for the owners of popular crypto or games related resources, selling Modifiers on the Market for  reasonable prices can help make some real Ether quick.
Got your own strategy on how to take the leadership in deep blue decentralized ocean? Share it! Fishbank has an Affiliate Program that can offer good rewards for help to spread the word.
Fishbank has announced partnership with Opskins and WAX Token that will allow trading crypto fish tokens on the biggest digital game assets market with 10+ Million active users just like skins for CS:GO, PUBG and Dota 2.
Fishbank game is in constant development, more great announcements to come soon!

Stay tuned:
Twitter: https://twitter.com/chatrobotic
Join Telegram Group: https://t.me/fishbank_en
Telegram News Channel: https://t.me/fishbank
Facebook: https://fb.me/fishbank.io
Disclaimer:
The information provided on this website does not constitute investment advice, financial advice, trading advice or any other sort of advice and you should not treat any of the website's content as such. CryptoCurrencyClarified does not recommend that any cryptocurrency should be bought, sold or held by you and nothing on this website should be taken as an offer to buy, sell or hold a cryptocurrency. Do conduct your own due diligence and consult your financial advisory before making any investment decision.
Accuracy of Information
CryptoCurrency Clarified will strive to ensure accuracy of information listed on this website although it will not hold any responsibility for any missing or wrong information. You understand that you are using any and all information available here AT YOUR OWN RISK.
Price Risk
The price of Bitcoin and other cryptocurrencies are highly volatile. It is common for prices to increase or decrease by over 20–100% in some coins in a single day. Although this could mean potential huge profits, this also could mean potential huge losses. DO NOT INVEST ALL YOUR MONEY IN CRYPTOCURRENCIES. Only invest money which you are willing to lose.
Cryptocurrency trading may not be suitable for all users of this website. Anyone looking to invest in cryptocurrencies should consult a fully qualified independent professional financial advisor.
The post Fishbank Makes A Huge Splash! Swims Right To Top Of Crypto Collectible Games appeared first on CryptoClarified.