CryptoBots: Battle to Win Ether | Tournament Prize Pot Is Up To 10ETH
The 3rd CryptoBots Tournament Is Underway with a Prize Pot of 10ETH!
This Tournament (#3) runs from April 6th through April 19th.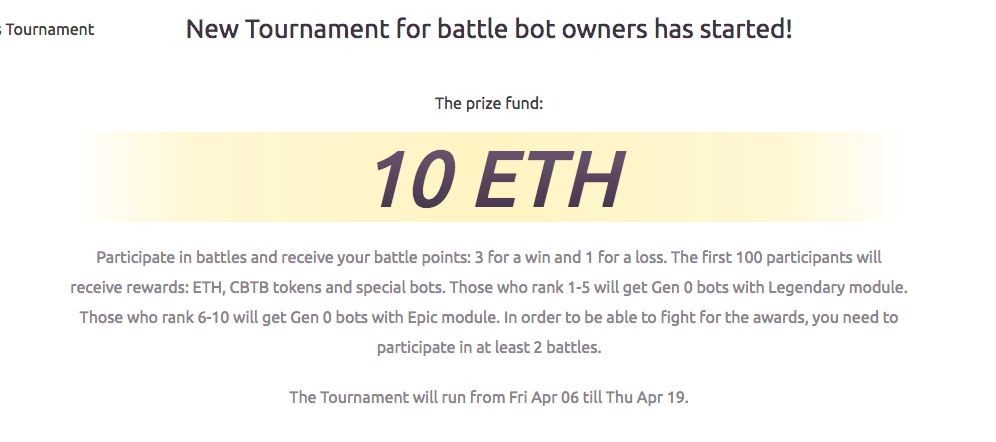 We have had a blast playing CryptoBots thus far, and we came in 2nd in the 1st tournament.
We are proud to report that CryptoBots paid out all winners.

We received .8ETH for placing 2nd and also received a rare CryptoBot that we can sell for more ETH if we decide to go that route. For now, it makes more sense to keep to manufacture new bots, lease out to others manufacturing bots (more ETH) or battle (again, more ETH)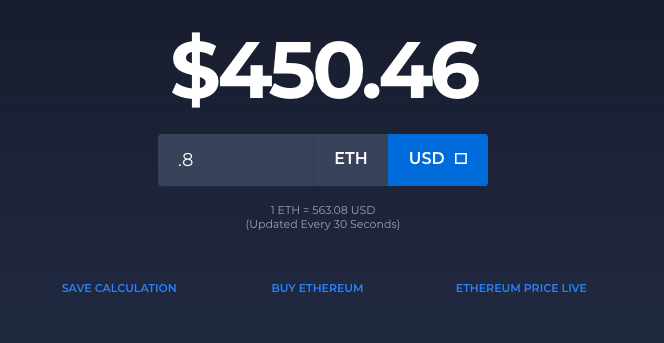 CryptoBots is just in it's infancy, and after a slow start without a ton of marketing behind it, it's picking up steam quickly.
New users have increased over 500% in the past 2 weeks and the numbers are growing daily.  
More players are rushing in to join the latest CryptoCollectable craze, and Tournament Pots are only going to get larger.. so assemble your crew and compete to earn ETH.
CryptoBots Rating ✰✰✰✰✰
This game is a lot of fun in itself, the fact that you can get lucky and potentially earn more than a year's salary (multiple years for the average American) Make this game even more appealing and slightly addicting we might add.
To Make Things Simple:
Start by purchasing unique or "more rare" bots
Mate the unique bots and create other rare bots
Battle them to earn your way up the ranks and prove your bot= More $$$ when you sell
Place in the Top 5 in Tournaments and receive rewards up to 1ETH and receive a unique rare bot (More ETH $$$)
List Your bots for sale if you'd like and earn a serious payday.
The highest price CryptoBot for sale at the moment is priced at 427ETH ($232,288 USD) Although more rare bots have recently been released like the CryptoBots with guns that are priced more realistically and there's new bots that haven't even been released yet.
How Tournaments Work
Participate in battles, receive points for your bots' battles (3 for a win, 1 for a loss). We will evaluate the players that finish 1st through 50th, based on their general amount of points, collected on a single account during the entire event period. The first five players will also receive 1 bot 0 generation with the Pistols module!
The 1st Tournament ran from March, 4 till March, 20.
Future Tournaments Will Have More Players & Bigger Prizes (More ETH to win) 
It's Official.. CryptoBots is here to stay. Rare bots are fetching hundreds of thousands of dollars from collectors eager claim the rarest of bots. Bots with guns and multiple arms seem to be fetching the the highest prices.
Grab your bots, manufacture (breed) new ones, battle or sell for ETH.
Exploding Growth Rate & Rush Of New Users
As the game grows, (and it's growing at a ridiculous rate of new users per day) Tournaments will be even bigger & payouts will be higher.
So being early and assembling your team of bots now will give you an advantage and greater likelihood of placing in Tournaments, being awarded a rare bot, and winning $$$.
Ok. So How Much Did CryptoBots Pay You For Promotion?

$0.00. CryptoBots hasn't paid us a dime. As most of our readers know, we have been extremely successful running marketing campaigns for CryptoCountries, CryptoCelebrities, World Of Ether and others. (3 of the Top 4 grossing Ethereum games of all time) Along with a number of the most successful Gambling Sites, DApps, Cryptocurrency wallets and projects.
We offer promotion and marketing services and go to work when hired.  But in full disclosure, we weren't hired by CryptoBots. We have never even had a discussion with the Development team. We tried this game out of pure curiosity, and in all honesty thought it would be a joke.
We were wrong. 
We're hooked. It's fun, slightly addicting and you can earn some serious profit playing. We liked it so much we decided to cover it. We weren't hired.. We just really like this game, saw the potential, and wanted in on it… and you should too.
How To Get Started With CryptoBots
Like any other blockchain technology based ventures, there are certain aspects that you need before getting started. Here are the main things to you need to get started:
First, you'll need a computer or laptop which has the desktop version of either chrome or Firefox. CryptoBots can only run in either chrome or Firefox, desktop versions.
For you to use CryptoBots, you have to install MetaMask which is a digital wallet. Then you have to deposit some money in it in order to make your maiden purchase. Of course you will need the wallet to purchase, sell and store your Bots.
You'll have to buy ether, ETH, either in MetaMask or from different exchanges and transferring them from your exchange wallet to MetaMask. Ether is the cryptocurrency which allows CryptoBots to run.
To get CryptoBots you'll need to Click at the 'Auction' button and find the Bots on Sale
You could be asking yourself the number of CryptoBots you'll need for you to start the game, well, you just need one. However, the site recommends you start with at least two to make it easy for you to create new bots.
How Do You Earn in CryptoBots?

Well, apart from the thrill and fun that comes with playing the game, you also need to think of how you will earn in the process. It is easy to earn in CryptoBots. When you win a game, you get rewarded with Bots which you can auction to other gamers in the site.
The best thing is that you can state your price since it's an auction allowing you to get the maximum earning. You also easily convert your Bots to Ethers, ETH, which you can use in the crypto industry. The site also allows the gamers to manufacture Bots which you can sell to new or existing gamers and in the process earn more ETH.
Disclaimer:
The information provided on this website does not constitute investment advice, financial advice, trading advice or any other sort of advice and you should not treat any of the website's content as such. CryptoClarified does not recommend that any cryptocurrency, game or token should be bought, sold or held by you and nothing on this website should be taken as an offer to buy, sell or hold a cryptocurrency, token, game or anything similar. Do conduct your own due diligence and consult your financial advisory before making any investment decision.
Accuracy of Information:
CryptoCurrency Clarified will strive to ensure accuracy of information listed on this website although it will not hold any responsibility for any missing or wrong information. You understand that you are using any and all information available here AT YOUR OWN RISK.
Price Risk:
The price of Bitcoin and other cryptocurrencies are highly volatile. It is common for prices to increase or decrease by over 20–100% in some coins in a single day. Although this could mean the potential for huge profits, this also means the potential for huge losses. The same goes for CryptoCollectible games which can be wildly speculative. DO NOT INVEST ALL YOUR MONEY IN CRYPTOCURRENCIES. Only invest money which you are willing to lose.
Cryptocurrency trading may not be suitable for all users of this website. Anyone looking to invest in cryptocurrencies should consult a fully qualified independent professional financial advisor.
The post CryptoBots: Battle to Win Ether | Tournament Prize Pot Is Up To 10ETH appeared first on CryptoClarified.