Right Now May Be The Perfect Time To Load Up on World of Ether Eggs
Article By Camilla Teston News 4C
When we last featured World of Ether, a single egg was almost 600 USD.
Since then, the ETH price of eggs has risen by 22%. The USD price, however, has decreased by 86%- a discount of $273.
Now may be the perfect time to buy World of Ether presale eggs
There are many predictions of what the World of Ether marketplace will look like when the game opens, but let's suppose its standard practice for players to price new monsters relative to the fiat price with which they purchased their eggs.
The game launched when ETH was at its peak price, nearly $1,400 per ETH. As eggs have increased in ETH, the crypto market has trended downwards.
If players are pricing monsters on the open marketplace relative to their purchase, then those who bought when the fiat value of ETH was low stand to be at an advantage.
This becomes especially true in the likelihood that ETH increases in fiat value. Wallet Investor, a popular crypto markets destination, predicts the price of ETH to reach $1,905.01 this year.
Bullish on World of Ether
World of Ether will be releasing its "Private Alpha" version on March 28th, and apparently some of blockchain's biggest influencers are supposed to take place in it.
A quick search of Twitter for World of Ether somewhat corroborates this, with the high amount of popular crypto Twitter accounts tweeting about the project.
What's also notable is that this team is completely public, and very responsive. Here are some facts about the team:
One of the founders has "The largest Ethereum Meetup group in the world" and teaches solidity to students.
The other founder is a senior developer at GitHub.
One of their team members has an acquisition under his belt.
Their Marketing Director used to do marketing for Fortune 500 companies.
A few weeks ago the entire team even did a live stream in which they answered all sorts of questions thrown at them.
The World of Ether game mechanics
World of Ether has breeding as a primary game mechanic (a game mechanic standard in all crypto collectibles), but it also has battling, leveling, battle points, different monster types, and rare, shiny, and legendary monsters.
When World of Ether is released on the Ethereum Main Net, eggs will increase in price by 15% to encourage new buyers to use the marketplace.
The egg presale buyers will be hatching and breeding the first Etherians to populate this marketplace. New players are incentivized to purchase from here as the monsters are expected to be more affordable.
In addition to this, by being the first players in the world, presale buyers are most likely to discover new species and receive Gold monsters. Presale eggs also have a higher chance of containing uncommon and rare monsters. More on game mechanics can be seen here.
The artwork is taken seriously
Everything we've seen from this game is custom made and not algorithmically generated.
As an example, even the subreddit is customized heavily.
The game's developers are constantly releasing new artwork- from new monsters to new backgrounds, and the website itself uses custom artwork to make itself stand out.
The art makes it clear that the developers care about this game.
The downsides
Eggs are ETH expensive (potentially), so if one expects ETH to go down and never ever go up, then eggs are fiat expensive.
The other downside is that, as with most things crypto, this game could rely on network effects. That's why it's important to look at who's doing their marketing, the amount of effort gone into the project thus far, and the experience of all the team members making this a reality. Seeing the crypto influencers mentioning this game is encouraging.
Recommendation
The World of Ether Alpha version is launching to big people in the crypto space and right now ETH is low. Now may be a great time to consider presale eggs.
Launch Date
The World of Ether V1 launch date has been announced!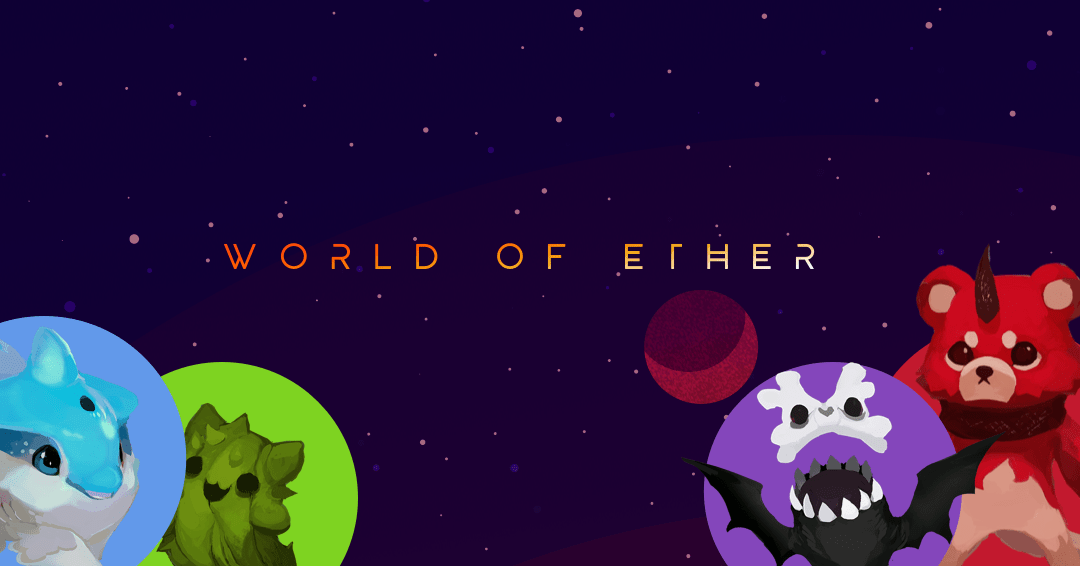 Get Your Eggs While You Still Can!
The highly anticipated crypto collectible game built on the Ethereum blockchain is already generating excitement. The team behind WoE has expressed their priority of making sure their Smart Contracts and user interface is well tested before the game is actually released to the public.
To ensure this, they will host 3 various launches leading up to the main net launch.
The first World of Ether launch, an exclusive Alpha, will be released on March 28th to a maximum of 50 vetted participants. The WoE team is anticipating this to be a bit buggy, but in terms of game mechanics and UX is set to be close to the full version of the game.
The team has stated that this version is only open to 50 people so that quality feedback is received and undisclosed features of the game are kept secret until main launch.
There are still openings for this test but you must email the following to [email protected].
Name
Experience and Credentials
Proof of said credentials
After the Alpha test, the team will be holding a public Bug Bounty with 'sizeable' rewards of ETH and monster eggs. The date will be announced shortly, but anybody is able to participate. The bug bounty will be for the game's smart contracts, so that they are more specifically tested and combed over. In order to participate in the Bug Bounty, join the WoE newsletter here to receive updates.
The team has stated that they want their full game to be "flawless," and these rigorous tests and various versions are the way they intend on achieving this.
>> World of Ether CEO Interview
The third World of Ether launch test, the Beta, will follow the Alpha. Like the Alpha, it will also be on the Rinkeby Test Network, using test net Ether.
The Beta is semi-private and will only be available to those with presale eggs. It will also contain the full World of Ether game. The dev team behind the project expects the Beta to be much shorter than the Alpha, due to many of the bugs already being corrected.
If you have yet to purchase an egg in the presale and would like to participate in the Beta, you can do so here.
You will need either the MetaMask plugin for desktop or the Toshi app for mobile to access this page, as it interfaces directly with the Ethereum blockchain.
Source: WorldofEther
More details of the Main Net's launch date and the game's bonus features are anticipated to be dripped out in the weeks to come. As of now, some of the biggest influencers in the space are awaiting this game, with, I'm told, many big names participating in the Alpha and Beta.
If you qualify to participate in the World of Ether Alpha or Beta, you will need test net Ether, essentially "play money." You can learn how to get Test Net Ether here.
World of Ether's Telegram group was buzzing with excitement when this roadmap was released, and the hype looks like it is unrelenting.
Source: WorldofEther
A few weeks ago World of Ether had its biggest whale in terms of ETH spent.
Some buyer spent around $40,000 on pre-sale eggs, first spending $20,000 and then coming back days later to double his/her purchase.
Source: WorldofEther
The World of Ether egg presale has an interesting pricing dynamic. The first egg sold was .00035 ETH. With each egg sold, the price of eggs rises by another .00035 ETH.
At press time, the team has currently sold 1887 eggs, the current going price of an egg selling at 0.660 ETH.
The eggs can be hatched into monsters upon release of the full game. These monsters can be battled, bred, or sired and sold for real ETH, with substantial advantages added for people who purchase eggs in the presale.
The game is being lauded as highly stylized and one of the only few crypto collectibles to not use procedurally generated art. It's being designed to compete artistically with top mainstream video games.
Why Do We Think It Will Be A "Monsterous" Success?
Because it's fu*#ing awesome.
It looks great, it's a phenomenal idea, and could be slightly addicting
In it, "explorers" battle, breed, and collect monsters. Explorers can earn ETH by selling and siring monsters. Explorers can level up, gain experience from battling, and get permanent credit for discovering a new monster.Store, sell and breed your valuable Etherians on the Ethereum blockchain where they are held safe and securely.
Use ETH to buy eggs and discover hundreds of new monsters.Breed your way to a legendary monster, or buy an egg and test your luck. World of Ether is filled with many Etherians waiting to be discovered.
Be the first to discover a new species and get rewarded.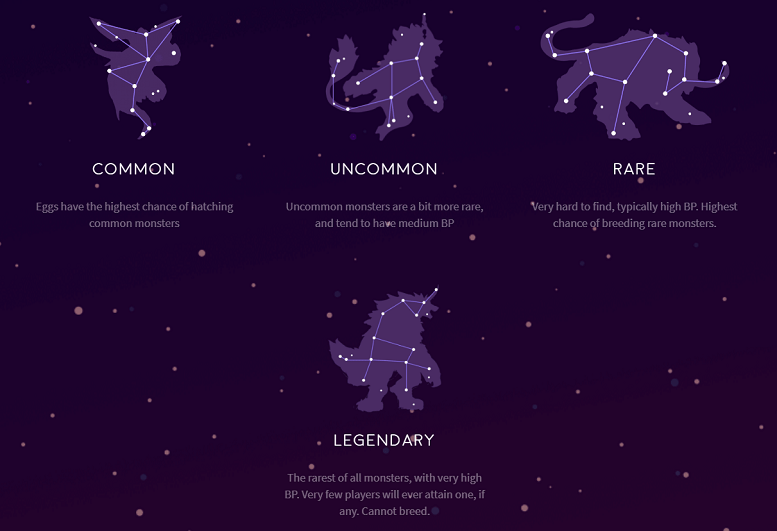 In World of Ether, users can battle, breed, and sell a variety of monsters, creating a rich world to interact with.
Games that use blockchain have many advantages. With World of Ether, the monsters live on the Ethereum blockchain in a way that is truly decentralized. This gives the game several advantages:
New breeds of monster can be discovered by users and when a user discovers a monster, that user is forever credited as being the discoverer of that monster.
The market decides how many monsters come into existence, and the founding team cannot create monsters out of thin air, thereby devaluing existing monsters (something that happened with CryptoKitties, for example).
The market decides on the price of all types of monsters.
Battle results cannot be manipulated and altered.
There are five types of monsters, each with different advantages and strategies: Sun, Ocean, Life, Death, and Astral.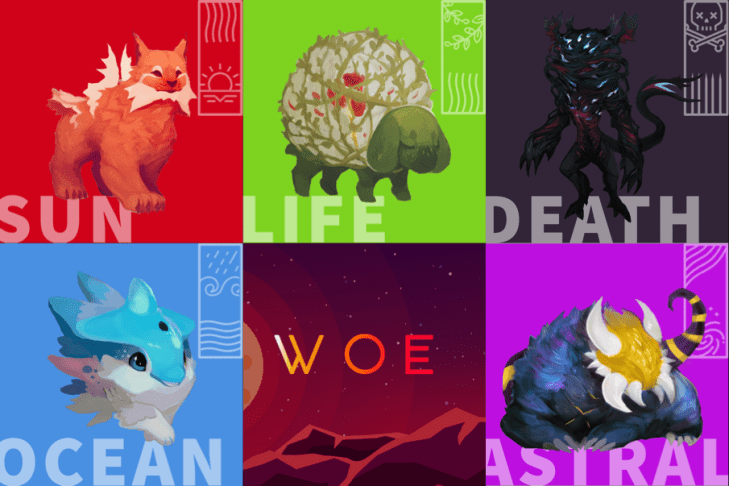 There are four grades of rarity: common, uncommon, rare, and legendary. Legendaries are extremely difficult to obtain, very powerful, and valuable. Few players will ever encounter them, though players will be able to look into our smart contracts and see the secret to creating them.
Battling gives users experience, which allows them to increase their chances of breeding these rare monsters.
World of Ether is translated into Chinese, Korean, Japanese, Russian, Spanish, and French. CryptoKitties, by comparison, was only in English.
The game began pre-selling eggs at midnight of 1/15/18.
Purchase Your Eggs HERE
Here's a video showing how to purchase an egg:
>>>> Buy Your Eggs Here
The game is one of the only few to not use procedurally generated art. Everything in it is custom made, and highly stylized. It's being designed to compete artistically with top mainstream video games.
With no outreach, the game went viral on social media, and sold half a million dollars of presale assets in just its first two days of release.One of their new whales came in on Friday, buying $22,000 of presale assets to use in the main game.
A week before, the game announced a partnership with Coinbase's Toshi.Most crypto collectible games are only in English. World of Ether is the first to be translated into Chinese, Russian, Korean, Japanese, French, and Spanish.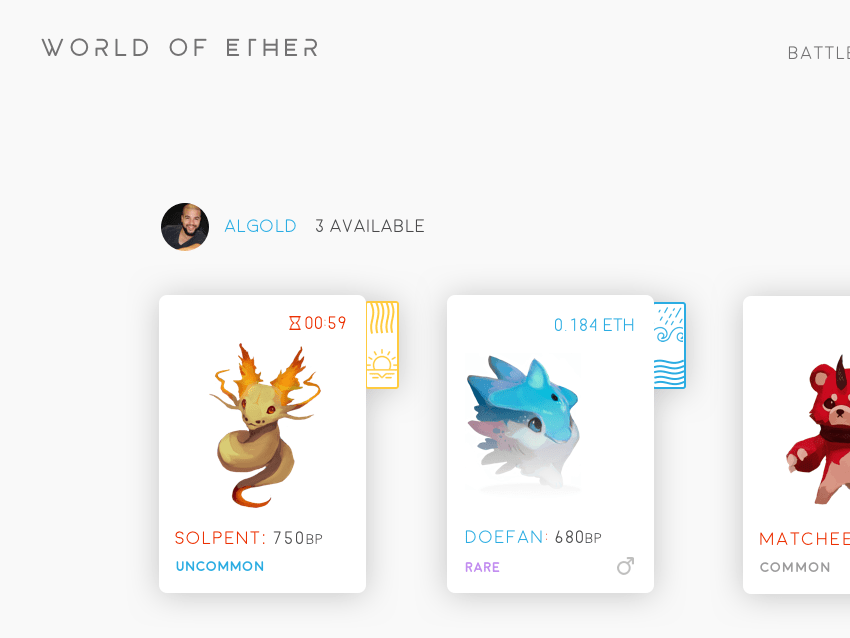 At the end of Q1, 2018, upon launch of the full game, the presale and affiliate program will end. At this time, eggs jump in price by 15% in order to increase reliance on the monster marketplace.
In the full game, all presale eggs will be able to be hatched into monsters that can be bred, battled to increase the player's level which unlocks the ability to breed rarer and more powerful monsters, sired for ETH, and sold on the marketplace for ETH- in a system that could end up being quite profitable for players.
The egg presale owners will be populating the marketplace with monsters, which new players are incentivized to purchase by there being a very high egg price. Presale monsters also have a shorter breeding cooldown period.So what are you waiting for?
Follow The World Of Ether Team
Contact:[email protected]
Website: https://worldofether.com
Guide: https://worldofether.com/guide
FAQ: https://worldofether.com/faq
Learn about the team: https://worldofether.com/about
Twitter: https://twitter.com/worldofether
Instagram: https://www.instagram.com/worldofether/
Facebook: https://www.facebook.com/WorldofEther
Telegram: https://t.me/worldofether
GitHub: https://github.com/worldofether
---
Project/Token/ICO/Gambling Site or Company Promotion
If you looking for Coverage of your ICO, project, game or company we are the best in the business. Learn About Promoting With CryptoClarified
---
Disclaimer:
The information provided on this website does not constitute investment advice, financial advice, trading advice or any other sort of advice and you should not treat any of the website's content as such. CryptoClarified does not recommend that any cryptocurrency, game or token should be bought, sold or held by you and nothing on this website should be taken as an offer to buy, sell or hold a cryptocurrency, token, game or anything similar. Do conduct your own due diligence and consult your financial advisory before making any investment decision.
Accuracy of Information:
CryptoCurrency Clarified will strive to ensure accuracy of information listed on this website although it will not hold any responsibility for any missing or wrong information. You understand that you are using any and all information available here AT YOUR OWN RISK.
Price Risk:
The price of Bitcoin and other cryptocurrencies are highly volatile. It is common for prices to increase or decrease by over 20–100% in some coins in a single day. Although this could mean the potential for huge profits, this also means the potential for huge losses. The same goes for CryptoCollectible games which can be wildly speculative. DO NOT INVEST ALL YOUR MONEY IN CRYPTOCURRENCIES. Only invest money which you are willing to lose.
Cryptocurrency trading may not be suitable for all users of this website. Anyone looking to invest in cryptocurrencies should consult a fully qualified independent professional financial advisor.
The post Right Now May Be The Perfect Time To Load Up on World of Ether Eggs appeared first on CryptoClarified.